In this article, we will review Moonpay. Moonpay has quickly grown to become one of the most-used fiat gateways. Moonpay aims to be better than alternatives by supporting as many locations, cryptocurrencies and payment methods as possible. 
But is Moonpay the best fiat gateway, and what are Moonpay alternatives? We'll find out in this Moonpay review, and see how Moonpay stacks up vs Sendwyre vs Banxa vs Simplex and vs Mercuryo.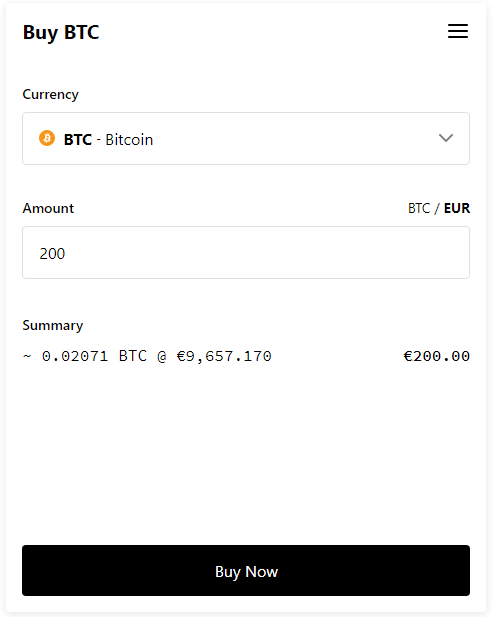 Moonpay Review and Alternatives
Moonpay
prides itself on being 'the new standard for fiat to crypto'. After being founded in 2018 by Ivan Soto-Wright, Moonpay started to by offering both an API and a widget for fiat to cryptocurrency transactions. These could be implemented by wallets and exchanges to allow their customers to buy cryptocurrencies directly. 
The company is incorporated in Malta, but has a distributed team. While initially offering access to its API, Moonpay now only provides companies access to their widget (displayed above). 
In this Moonpay review, we will now look at Moonpay's supported payment methods, supported cryptocurrencies, and supported fiat currencies. We'll also review Moonpay's fees and look at available alternatives. 
Review of Moonpay's supported cryptocurrencies, fiat currencies and payment methods
Moonpay's main focus is to support as many geographies, cryptocurrencies and fiat currencies as possible. The goal is to become the one-stop-shop for all fiat to crypto transactions within a single widget, not unlike fiat gateway aggregators aim to do.
In terms of fiat currencies, Moonpay also has a very wide range, including EUR, USD, CAD, AUD, HKD, CNY (although not in China itself) and over 30 more fiat currencies.
Moonpay supports transactions using the following payment methods: credit cards and wyre transactions.
Moonpay's widget
Moonpay is fairly easy to integrate, and it's widget is customizable to some degree. A $1000 deposit is required to integrate Moonpay, which is returned once Moonpay has made $1000 from the transaction costs imposed on transactions. The organization further requires extensive documentation on your businesses before you integrate. This is all first reviewed by Moonpay, before a contract can be signed.
When using the Moonpay widget, users will have to go through a KYC-process. For this, they have to give information about themselves, verify their email and prove their identity. They have to do this (for any transaction!) by uploading a passport or other identity document, which can scare off many users. 
Moonpay: review of fees
Aside from the deposit mentioned above, Moonpay charges end-users on every transaction made using the widget. Moonpay's fee on every transaction is 4.5%, or a minimum of $5. Due to this minimum fee, Moonpay is not a great option for small transactions. The overall fees are definitely high compared to
Moonpay alternatives
. However, when a business brings in large transaction volumes monthly, these fees are slightly reduced.
Moonpay alternatives and competitors
Moonpay vs Sendwyre, Simplex, Banxa and others
Onramper allows for integrating of Wyre, Moonpay, Coinify, Mercuryo, Indacoin, Xanpool in one.

Lowest of fees offered by Wyre, Moonpay, Mercuryo, Xanpool, Indacoin, Coinify

EU wire transfers: 0%
Creditcard: 1.99%**


* Moonpay is also integrated within

Onramper

min. $5
or U.S. debit card: 2.9% + 0.30$
Debit/credit cards: 3.99% +0.30$

Yes (for EU, U.S. Canada only)
The best way to compare fees
Because every fiat gateway calculates fees differently, the only good way to compare fees is by seeing how much cryptocurrency a users actually gets.
Moonpay is a good fiat gateway, especially for multi-currency wallets and exchanges. Moonpay's widget supports many countries, fiat currencies and cryptocurrencies. However, Moonpay's fees for users are quite high and a $1000 integration fee applies. Also, users have to upload identity documents for any transaction, which scare many people away. 
Note: Moonpay is also integrated within Onramper, a fiat onramp widget that integrates multiple gateways in once. Because Wyre is also integrated in Onramper, Moonpay's weaknesses (a.k.a. high fees, difficult KYC) are solved. By integrating Onramper businesses are also not required to pay Moonpay's integration fee/deposit.
SUPPORTED CRYPTOCURRENCIES