This is a review of Simplex, the most-used fiat-to-crypto gateway to-date. Is Simplex the best fiat onramp or are there better Simplex alternatives? In this review, we will find out, by discussing Simplex's functionalities, supported cryptocurrencies, user experience and fees. Without further ado: enjoy our Simplex review. 
In this Simplex review, we'll find out which is better, Simplex vs Moonpay vs Mercuryo vs Banxa.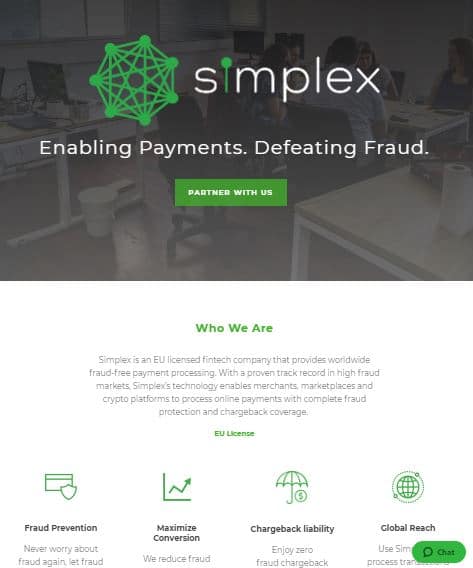 Simplex review and alternatives
Simplex is a 'fiat-to-crypto gateway', or 'fiat onramp'. It was founded in 2014 and has since provided fiat to cryptocurrency conversion services to other companies. Third parties can integrate Simplex to allow their customers to buy cryptocurrency directly using traditional currencies, which makes user-onramping from the fiat world easy. By integrating a third-party fiat gateway like Simplex, developers also don't have to worry about KYC/AML compliance, as this burden falls onto the party providing the conversion service.
Simplex was founded by Nimrod Lehavi, Erez Shapira, ad Netanel Kabala, who have an extensive background in online payment services. The company has grown to have 51-200 employees according to the company's linkedin page, and is based in Tel-Aviv, Israel. Its services are used by some of the largest parties in the industry, including Changelly, Cointelegraph, Binance and Bithump. 
Just looking for a list of Simplex alternatives and competitors? Click here.
Simplex's supported currencies and payment methods reviewed
For fiat gateways, the amount of supported fiat currencies, cryptocurrencies and payment methods are of great importance. This is where Simplex shines. It's gateway supports 12 different cryptocurrencies: Bitcoin, BCH, BUSD, ETH, XRP, BNB, LTC, SLM, TRX, NANO, ATOM and Dash
These cryptocurrencies can be bought by users using an even wider range of fiat (or traditional) currencies: SD, EUR, AUD, CAD, CHF, CZK, DKK, GBP, HUF, ILS, JPY, KRW, NOK, NZD, PLN, RUB, SEK, TRY, ZAR, ARS, AZN, CLP, CNY, COP, CRC, DOP, GEL, KZT, MDL, NAD, PEN, PHP, QAR, UYU, UZS, or VND. 
In terms of supported payment methods, our review of Simplex point out that its rather limited on this front, with Simplex's alternatives and competitors doing far better in this area. Simplex supports both credit and debit cards issued by VISA and Mastercard, as well as some virtual and prepaid cards. However, it does not support wire transfers and newer payment service providers such as Google/Apple Pay, which many other gateways do. Simplex further does not support American Express, Bank of America and Discover cards. 
Review of Simplex's UX & KYC implementation
Once this taken care of, and the API is integrated by third parties, their users can use Simplex's onramp to buy cryptocurrencies. An average fiat to crypto conversion takes about 24-72 hours using Simplex, which is long compared to alternatives and competitors.
Simplex is licensed as an Electronic Money Institution in Lithuania and implements a strict KYC policy (which is good). Therefore, users are required to provide personal information, verify their email & phone, and provide a scan of their pasports in order to buy cryptocurrencies. 
It should also be noted that Simplex has extensive fraud-detection and fraud-prevention tools.
Integrating Simplex & Integration fees
In contrast with many other fiat onramps we have reviewed, Simplex's website does not give developers easy access to the required APIs and documentation. Simplex also does not provide a ready-made widget for third-party developers. To integrate their fiat onramp services, developers have to negotiate a contract with the company directly. 
There are high fees involved with integrating Simplex, with costs being quoted to around $20.000, while there are free alternatives. It should however be noted that, depending on the volume of transactions going through your implementation, you might get some of that money back.
Simplex can be integrated as a widget on wallets and exchanges. It is not possible to integrate a fully-API based system while building your own front-end. However, there is some customization possible when integrating Simplex as a widget.

User fees and minimum conversion amounts
A final, and crucial, element to this Simplex review are the fees applicable to fiat-to-crypto conversions. On this point, however, Simplex does not do well at all. The company charges a minimum fee of $10 per transactions, or up to 5 percent of the transaction value. This is
far higher than available alternatives.
During our review, we found Simplex's fee structure to be a huge dealbreaker. Users are also required to buy a minimum of $50 for the system to work, which is more than available alternatives and competitors of Simplex.
Simplex alternatives and competitors
There are a few alternatives and competitors to Simplex, each with its own advantages and disadvantages, such as Wyre, Onramper and Banxa. Onramper, for example, supports more payment methods, currencies and has lower fees than Simplex. For a quick comparison, see the table on our fiat-crypto comparison page.
Note that different gateway alternatives are better for different circumstances, depending on a user's location, wishes, input currency, requested cryptocurrency, preferred payment method and applicable fees. Because of this, it is wise to integrate multiple gateways. Because this is a lot of work, it is worth looking into a 'fiat on ramp aggregator' like onramper.
See a comparison of Simplex alternatives and competitors below. This gives a great view of Simplex vs Sendwyre vs Moonpay vs Banxa vs Mercuryo and more.
Simplex vs Moonpay, Wyre, Mercuryo, Banxa and more
Onramper allows for integrating of Wyre, Moonpay, Coinify, Mercuryo, Indacoin, Xanpool in one.

Lowest of fees offered by Wyre, Moonpay, Mercuryo, Xanpool, Indacoin, Coinify

EU wire transfers: 0%
Creditcard: 1.99%**


* Moonpay is also integrated within

Onramper

min. $5
or U.S. debit card: 2.9% + 0.30$
Debit/credit cards: 3.99% +0.30$

Yes (for EU, U.S. Canada only)
The best way to compare fees
Because every fiat on-ramp uses different spreads and conversion rates, the only good way to compare fees is by seeing how much crypto a users actually gets.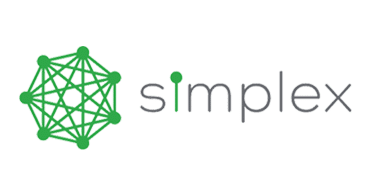 Simplex supports a wide variety of supported fiat and cryptocurrencies, is legally compliant and focuses on fraud detection. However, its limited amount of supported payment methods and very high fees result in better Simplex alternatives being available.
SUPPORTED FIAT/CRYPTOCURRENCIES