This our Sendwyre.com review. Wyre is one of the more popular fiat-to-crypto gateways. But is it the best fiat onramp or are there better alternatives or competitors? Which is beter: Sendwyre vs Moonpay vs Simplex vs Banxa vs Mercuryo?
In this review, we will go over SendWyre's functionalities, supported currencies, user experience and fees. Without further ado: enjoy our Senwyre review.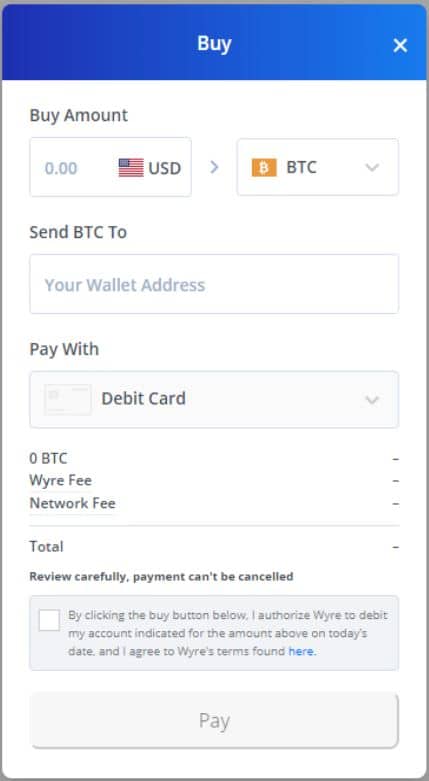 About Sendwyre's fiat gateway
Wyre, or 'Sendwyre', was founded by Michael Dunworth and Ioannis Giannaros. The company has about 25 employees and is based in San Francisco, with branches in Sydney and Miami. Its services are used by parties like MakerDAO, Metamask, Edge, Compound and ShapeShift. Sendwyre is a not just a 'fiat-to-crypto gateway', or 'fiat onramp', but rather a payment service provider that also does fiat-to-crypto conversions. The company provides an API and widget. 
As a U.S. company, Wyre is registered with FinCEN. The company additionally has already obtained a large number of payment transmitting licenses on the state-level. 
Third parties can implement SendWyre's fiat gateway widget on their websites, wallets and exchanges to allow their customers to buy cryptocurrency directly using various fiat currencies. This has the advantage that developers don't have to worry about KYC/AML compliance, while user-onboarding for crypto-related application is improved as users don't have to first go to a third-party exchange. Let's dive into it: Is Sendwyre the best gateway or are there better alternatives?
Review of Sendwyre's supported cryptocurrencies, fiat currencies and payment methods
For fiat gateways, the amount of supported fiat currencies, cryptocurrencies and payment methods are of great importance for our review. Wyre's fiat gateway supports the following cryptocurrencies: BTC, ETH , DAI, USDT, BUSD, GUSD, HUSD, PAX, USDS and USDC. While this is quite limited, SendWyre support many stable coins.
At the time of writing, Sendwyre supports the following fiat currencies: USD, EUR, GBP, AUD, and CAD. Compared to other fiat gateways, this is also quite limited. 
In terms of payment methods, Wyre does pretty well. While initially only supporting debit cards, Sendwyre now support debit cards, credit cards, and Apple Pay. 
Integrating Wyre's widget 
Wyre is not as easy to work with as other available alternatives. Before being able to integrate the SendWyre's widget, companies have to go through a KYC process for businesses, as Wyre wants to review extensive documentation on their business, incl. chamber of commerce registration, a copy of their statutes, an overview of shareholders and proof of bank account. Companies also have to sign a contract with Sendwyre. On the upside, Wyre's API documentation is extensive and of good quality.
Wyre's UX review
Once this taken care of, and Wyre's widget is integrated by the third party, its users can use Wyre's onramp to buy cryptocurrencies. During our review, we found SendWyre's user experience to be great. You can try their widget for yourself here.
Wyre's widget is unique in that it doesn't require users to upload identity documents. Users can buy up to $500 without uploading a passport or other form of identification. Users only have to provide their basic information, email address, phone number and address. This makes the checkout flow very quick. Actual delivery of the cryptocurrency will, of course, take a bit.  
A final, and crucial, element to this Sendwyre review are the fees applicable to conversions. SendWyre's fee structure is pretty okay compared to
other fiat gateways we have reviewed, and compares well to available Sendwyre alternatives
 and competitors. The company currently charges 2.99% + $0.30 per transaction when a U.S. debit card is used, but reportedly intents to lower these towards 1%.  For non-U.S. debit cards, 3.99% is charged. The same 3.99% is applicable to all credit card and Apply Pay transactions. Additionally, there's a minimum fee of $5 which shall be applied if the percentage multiplied by the value of the transaction is lower than $5.
Sendwyre competitors and alternatives
There are a number of alternatives to Sendwyre, including Simplex, Moonpay and Banxa, who are compared here. Some of these do better in terms of supported payment methods and locations than Wyre. Wyre is also integrated within Onramper, a fiat gateway aggregator that allows you to integrate multiple fiat gateways in one widget/API.
Note that different fiat gateways are better for alternative circumstances, depending on a user's location, wishes, input currency, requested cryptocurrency, preferred payment method and applicable fees. Because of this, it is wise to integrate multiple gateways. However, since this takes substantial work, it is worth looking into a 'gateway aggregator', which is a fiat to crypto gateway widget that has integrated multiple fiat gateways.
See a comparison of sendwyre / wyre alternatives and competitors below. This gives a great view of Wyre vs Moonpay vs Banxa vs Simplex vs Mercuryo and more.
Sendwyre vs Simplex, Moonpay and more.
Onramper allows for integrating of Wyre, Moonpay, Coinify, Mercuryo, Indacoin, Xanpool in one.

Lowest of fees offered by Wyre, Moonpay, Mercuryo, Xanpool, Indacoin, Coinify

EU wire transfers: 0%
Creditcard: 1.99%**


* Moonpay is also integrated within

Onramper

min. $5
or U.S. debit card: 2.9% + 0.30$
Debit/credit cards: 3.99% +0.30$

Yes (for EU, U.S. Canada only)
The best way to compare fees
Because every fiat on-ramp uses different spreads and conversion rates, the only good way to compare fees is by seeing how much crypto a users actually gets.
Sendwyre is a good fiat gateway for the U.S. where it is obtaining all required licenses on state level. While Wyre does not support a wide variety of cryptocurrencies or fiat currencies, it's fees are reasonable compared to alternatives. Sendwyre is user-friendly due to implementing Apple pay. The best aspect of Wyre is that it does not require users to upload identity documents, which is unique among all other gateways we've reviewed.
Note: Wyre is also integrated within Onramper, a fiat onramp aggregator that allows you to integrate multiple fiat gateways in a single widget.
SUPPORTED (CRYPTO)CURRENCIES